Discussion goals: By placing each work in a historical context, and by considering its technique and materials, students are encouraged to think about themes of fear, violence, the other world, and nightmare-like experiences.
Chinese Tomb Guardians
These spirit tomb guardians (zhenmushou) clutch snakes in their hands while subduing animal demons atop rock plinths. The human-faced beast has one taloned foot on the back of a screaming deer-demon; the lion-faced guardian is seen pouncing on a squealing, green-spotted, winged boar-demon. Painted down the front of each guardian is a central band of stylized peony flowers, with floral bands on silver ground along their sides. The forearms and ankles of both guardians, as well as the mane surrounding the lion's face, are boldly painted to suggest fur, while the hair on the human face is executed in fine lines. Slits along the tops of both figures' arms may originally have held flame-shaped spikes made of perishable material. The backs of both guardians are painted with red circles to resemble fur pelts.
This pair of beast guardians represents the final stage of the long sculptural evolution of tomb guardians, when their function as demon-quellers became visually represented. Similar examples date to around the mid-eighth century and have been recovered primarily from the area near the Tang-dynasty capital of Chang'an (present-day Xi'an). The Princeton lion-face tomb guardian seen here is so similar in modeling, decoration, and height to a guardian in a private collection that the figures are almost certainly from the same workshop. A third lion-face guardian, in the Kimbell Art Museum, Fort Worth, is taller and more elaborate than the other two—but similar enough to suggest that it also is from the same workshop. This raises the possibility that all three figures are from tombs in the same general vicinity, or perhaps from a single tomb or mausoleum.
Conversation prompts
Consider the poses and expressions of these figures in relation to their original function as tomb guardians.
Describe the painted decoration of these figures.
These guardians are composite figures. Which particular animal features do you notice? What is the effect of combining recognizable features to create a fantastical being?
Francisco José de Goya y Lucientes, Monk Talking to an Old Woman
In December 1825, Goya wrote to his friend Joaquín Ferrer, "It is true that last winter I painted on ivory, and have a collection of some forty experiments, but it is a new kind of miniature which I never saw before." Then seventy-nine years old, Goya was living in exile in Bordeaux, France, having fled the oppressive rule of Spain's King Ferdinand VII. He could no longer see or hear well but nevertheless devised an entirely new method of painting. Instead of building up a figure from tiny dots of paint, he blackened pieces of ivory and let random drops of water create forms he would then develop. Goya painted these small scenes not from nature but from his imagination. His experience of creating works of art (especially prints) in series is evident in this medium, as he worked out similar scenes with psychological overtones in the other known ivories. Such disquieting content—long present in peripheral figures in his paintings or as primary subject matter in his prints—is here allowed free reign.
Conversation prompts
How does the unusual technique used by Goya to create this work complement the ambiguous subject matter? (Consider the specific experience of viewing this work as well.)
Which particular details make this composition unsettling to the viewer?
Describe the color contrasts used in this ivory.
Leonora Carrington, Crookhey Hall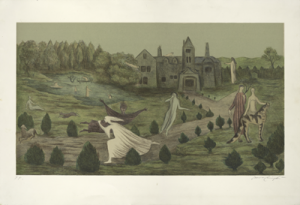 Carrington grew up in northwestern England in a Gothic-revival mansion called Crookhey Hall. Her childhood home appears repeatedly in her artwork, reflecting the troubling memories of that time that remained with her throughout her life. The ominous building in this print—based on an earlier painting of 1947—also carries associations with the mental asylum in Santander, Spain, to which Carrington was committed after she suffered a psychological breakdown in 1940. In her autobiographical novella Down Below (1944), she described the harrowing account of her psychiatric treatment, during which she was given the drug Cardiozol for convulsive shock therapy.
Conversation prompts
How is architecture represented in this scene? How does it relate to the landscape?
How did Carrington use scale and perspective in this work?
Consider the movement of the figures within this scene. Is there a suggestion of a narrative? If so, how does the viewer reconstruct this story?
---
Reliquary
This house-shaped reliquary was made in Limoges, a center that produced and shipped enamel work throughout Europe in the twelfth through fourteenth centuries. It shows the Stoning of Saint Stephen, the first Christian martyr. In the champlevé enamel technique, the copper support is hollowed out and glass powder is placed in the indentation. Upon firing it melts and forms fields of color. A reliquary like this would have been displayed in a parish church.
Conversation prompts
This reliquary was meant to contain some of the physical remains of Saint Stephen. How would you relate the scenes depicted on the exterior of this artifact to its function?
Describe the materials, colors, and craftsmanship of this piece.
Sample classes and checklists
Nomi Stone, ANT313_CWR213: Anthropology of Awe and Terror
Marina Brownlee, FRS 119: Dreams and Nightmares
Teresa Shawcross: HIS 345: History of the Crusades
Carol Greenhouse, ANT 236: Social Lives, Social Forces